Let's Go Public. We're coming out! Open Air Yoga
Posted by IRENE LE ROY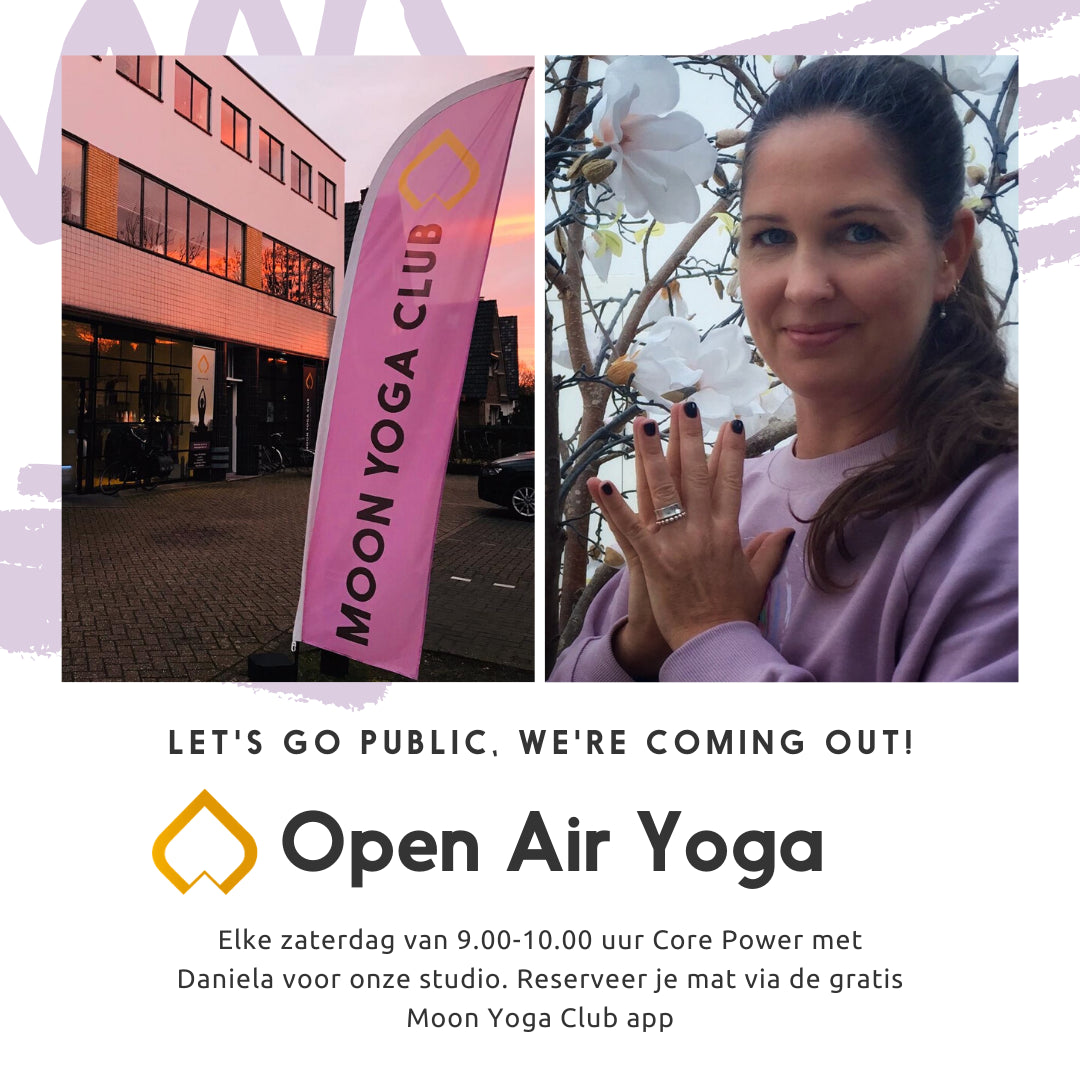 Let's go public, we're coming out! Zolang we niet naar binnen kunnen, gaan we naar buiten. Deze week starten we met maar liefst twee Open Air yoga lessen op twee toplocaties; een Open Air Core Power van Daniela en een Open Air strand yoga les van Irene. 
Deze Open Air Yoga les wordt gegeven in het hart van Bergen voor onze studio. Onze deuren blijven nog even gesloten, maar onze Moon Community straalt als nooit te voren. Laten we ons verenigen via yoga en samenkomen voor een Core Power practice met Daniela.
Say goodbye to back issues with a healthier body and stronger core muscles!
Bij Moon Yoga Club hebben we een programma ontworpen dat op maat gemaakt is om de core strength te verbeteren door yoga te combineren met pilates en fitness. Deze spiertraining versterkt de romp en creëert de juiste balans tussen de buik- en rugspieren. Dit programma is geschikt voor alle niveaus. Dus kom naar deze les en zeg gedag tegen rugklachten; en hallo tegen een gezond lichaam en sterke romp spieren.
Deze Open Air Yoga les en wordt gegeven door Daniela op de parkeerplaats voor onze studio. Wij leggen de matten voor je klaar. Zorg dat je zelf een mat mee neemt om deze over onze matten heen te leggen. 

Tijd: 9.00-10.00 uur

Waar: Prins Hendriklaan 7
Prijs: Gratis voor Moon Members met een actief membership of een strip van je strippenkaart of losse les à € 15,-
Neem een handdoek en flesje water mee.
Richtlijnen RIVM: Volwassenen mogen vanaf 11 mei weer in de buitenlucht trainen. Ook hierbij gelden de algemene hygiëneregels van het RIVM en dient er 1,5 meter afstand gehouden te worden.
Via de gratis Moon Yoga Club app meld je je eenvoudig aan. Let op! Aanmelden is verplicht, zodat we je kunnen berichten als de les niet doorgaat ivm slecht weer en we de richtlijnen vanuit het RIVM kunnen volgen.
Wanneer de Open Air Yoga les niet doorgaat ivm het weer. Wordt deze les in de studio van Moon Yoga Club gegeven en kun je mee doen via live stream. Hier wordt je minimaal een uur van te voren over bericht. Doe je liever mee vanuit huis? Deze les wordt ook aangeboden via Live stream en kun je ook via de Moon Yoga Club app reserveren.
Doe je mee? 
Je reserveert eenvoudig een Open Air Yoga les via de gratis Moon Yoga Club app. 
1. Download de Moon Yoga Club app.
2. Reserveer de Open Air Yoga les. 
3. Zorg dat je minimaal 15 minuten vooraf aanwezig bent.
Wanneer je een Moon Membership afsluit heb je onbeperkt toegang tot alle live stream lessen, onbeperkt toegang tot Open Air Yoga lessen en exclusief toegang tot de yoga video's voor slechts €15 per week! Join us en kies voor het Moon Membership.
Ja, ik wil het moon Membership >
Collection 2019
Sale 70% Off
Title for image