23 februari: Workshop Yin Yoga & Chakra's by Marcel van de Vis
Posted by IRENE LE ROY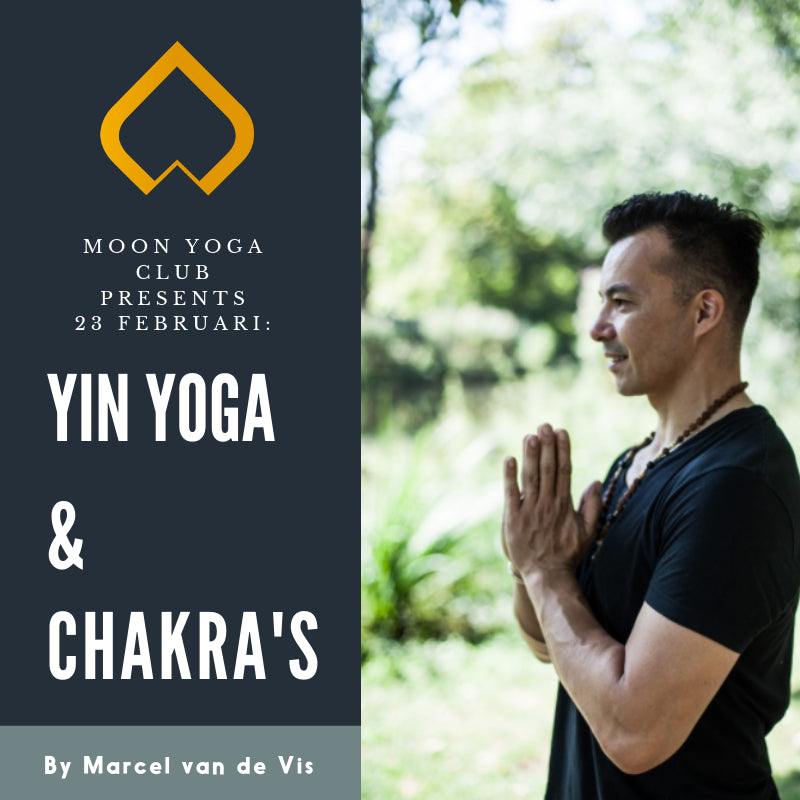 23 februari organiseert Moon Yoga Club in samenwerking met international Yoga teacher Marcel van de Vis van Yoga Garden Amsterdam een exclusieve workshop Yin Yoga.
Yin Yoga en Chakra's.
Chakra's we hebben er allemaal wel eens van gehoord, punten in het lichaam met een bepaalde kleur toch? Er zijn veel vooroordelen en onbegrip over chakra's. Wat zijn chakra's nou precies, wat doen ze of waar dienen ze toe? En hoe kan meditatie ons helpen dit onderwerp beter te begrijpen? Wat is chakra meditatie? Ook al is chakra theorie duizenden jaar oud, het is verbazingwekkend hoe relevant ze blijft in onze moderne levens. De inzichten van chakra's en chakra meditatie kunnen ons helpen om oude gedragspatronen te begrijpen en beïnvloeden om een bewuster, rijker en gelukkiger leven te leiden.
Wij volgen de lijn van Swami Paramahansa Yogananda en Dr. Hiroshi Motoyama, en één vrij bekend in de yoga wereld en de ander meer in de wetenschappelijke wereld, maar beide al bij leven autoriteiten op het gebied van Chakra's en chakra meditatie. Deze workshop is gebaseerd op de ideeën en technieken van Yogananda en Motoyama, zoals ik geleerd heb van mijn leraren Paul en Suzee Grilley.
De docent: Marcel is een toegewijde student van Paul en Suzee Grilley, grondleggers van Yin Yoga, en hun visie op asana, filosofie en meditatie. De stijl van yoga waarin hij les geeft noemt hij Yang en Yin yoga en heeft een functionele benadering (wat doet het voor je) ipv een esthetische (hoe ziet de houding er uit). Dit is ook pracies wat hij uit draagt tijdens zijn lessen, workshops en trainingen.
Deze workshop is ook een Pre-Teacher Training en perfect ter voorbereiding op de 100 uur Yin Yoga Teacher Training van 5 aug t/m 18 augustus 2019 bij Moon Yoga Club. Meer informatie over de Yin Yoga opleiding vind je hier.
Wanneer: 23 februari
Prijs: € 30,-
Tijd: 13.30-16.30 uur
Reserveer vandaag nog je mat via de gratis Moon Yoga Club app of bel de studio 072-7436011.
Collection 2019
Sale 70% Off
Title for image