Green Challenger #4: Moon Yoga Club
Posted by IRENE LE ROY

We stappen binnen in de oase van rust aan de Prins Hendriklaan in Bergen. Moon Yoga Club opende nog geen 2 jaar geleden haar deuren, maar is inmiddels ook bekend ver buiten de gemeentegrenzen. Lessen in diverse vormen van yoga, speciale weekendkaarten voor toeristen, maar ook het aanbieden van een opleiding tot yogadocent trok al veel deelnemers van over de hele wereld.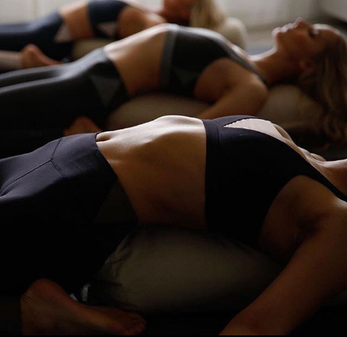 Aandacht is alles
"Bij Moon Yoga Club staat aandacht centraal", vertelt eigenaresse Irene Le Roy. "Zodra je binnenstapt moet het voelen als een cadeautje aan jezelf. Dat gevoel proberen we over te brengen in onze yogalessen, maar ook door de sfeer in de yogaruimte en in de ontspanningshoek waar na de les wat gemberthee of sap voor iedereen klaar staat. We willen kwaliteit brengen. En dat voeren we in alle onderdelen van ons bedrijf door. Niet alleen in de lessen, maar ook in de merken die we in onze yogawinkel voeren." Le Roy wist distributeurs van vooraanstaande Amerikaanse yoga-modelabels te overtuigen van haar visie en kan daarom exclusieve merken voeren zoals Spiritual Gangster, Lululemon en Beyond. Ook de hervulbare waterflessen van S'well zijn een groot succes. En naast die grote merken, maakt Le Roy ruimte om nieuwe producten te introduceren zoals de roomsprays van Rock Your World en inzichtkaarten van Inner Compass.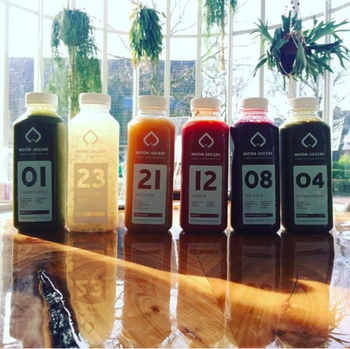 Koudgeperste sappen
De keuze voor kwaliteit komt ook terug in de koudgeperste vruchten- en groentesappen van Moon Yoga Club. Die worden gemaakt van biologisch geteelde groenten en fruit. "Waar mogelijk kiezen we zelfs voor biologisch-dynamische teelt, want de maan speelt bij Moon Yoga natuurlijk een belangrijke rol. De machine om koudgeperst sap te maken was een forse investering, maar essentieel om kwalitatief goed sap te persen." Le Roy importeerde de installatie uit Amerika. Er komt geen hitte vrij bij het maken van koudgeperst sap, dus blijven er meer voedingsstoffen behouden en is het waardevoller voor de gezondheid. Koud persen gebeurt door het pletten en drukken van het groente en fruit, waarbij de sapopbrengst wordt gemaximaliseerd en voedingsstoffen intact blijven. "Naast de sappen zijn ook de fairtrade kokosnoten en kokosnectar erg populair. Ik overtuig onze klanten het best door ze te laten proeven. Dan ontdekken ze de echte smaken en willen ze niet meer anders."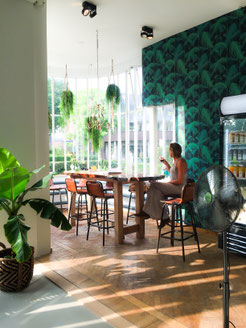 Je eigen wereld scheppen
Le Roy vertelt graag over haar persoonlijke motivatie om duurzaam te ondernemen. "Ik raak geïnspireerd door filmsterren als Julia Roberts en Leonardo diCaprio. Ze kunnen de aandacht die ze krijgen gebruiken voor zichzelf, maar kiezen ervoor hun bekendheid in te zetten voor een beter milieu. Als ondernemer kun je zelf kiezen hoe je je bedrijf inricht. Je kunt je eigen wereld scheppen, aandacht geven aan de dingen die belangrijk voor je zijn. Ik kan op deze manier de wereld een stukje mooier en gezonder maken. Duurzaam betekent ook goed voor jezelf zorgen. En het is belangrijk om goed voor jezelf te zorgen, want je gezondheid is je grootste bezit."
Yoga in het zand
Moon Yoga Club is gehuisvest in een pand met historie en karakter. "Dat pand is niet zomaar energieneutraal te krijgen, al zouden we dat graag willen. We blijven in beweging. We zijn voor onze verlichting inmiddels over op LED en de glazen koepels brengen veel daglicht binnen. De yogamatjes worden na de les gereinigd met een mix van tea-tree-olie en water in plaats van een chemische spray. Ook voor yoga zelf is geen energieslurpend apparaat nodig, je hebt alleen je eigen lijf nodig. Eigenlijk niet eens een studio, want de komende zomermaanden geven we ook yogalessen op het strand in Bergen aan Zee bij strandpaviljoen Hemingway's."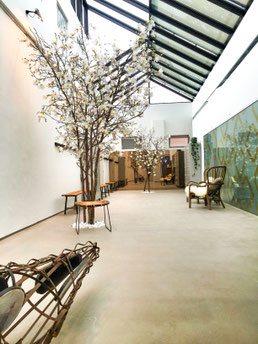 Wil je deze zomer ook een les yoga op het strand volgen, meld je dan aan via de gratis Moon Yoga Club app of website van Moon Yoga Club: www.moonyogaclub.com
Auteur Gaby van Wonderen. Dit artikel is doorgeplaatst van www.lovenotwaste.com. Love Not Waste presenteert de GREEN CHALLENGE, duurzame ondernemers uit de regio delen hun verhalen in een estafette om andere ondernemers te inspireren: dagelijks groen ondernemen is niet moeilijk en draagt bij aan een succesvolle business! 
Collection 2019
Sale 70% Off
Title for image