Yin Yoga Teacher Training 100hrs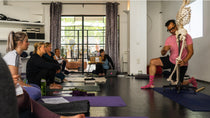 PRODUCT INFORMATION
Teacher Training Yin, anatomy and chakras
*ENGLISH DESCRIPTION BELOW*
25 september Marcel Vis Heil zijn signature Yin teacher training bij Moon Yoga Club. Dit is een 100 urige Yin opleiding. Na afloop ontvang je een certificaat van de internationale yoga organisatie Yoga Alliance en ben je een gecertificeerd Yoga docent.
Wat leer je?
Deze Yin Yoga docentenopleiding is gebaseerd op de filosofische en anatomische principes als onderwezen door onze leraren Paul en Suzee Grilley.
Anatomie en onderzoek (skelet-/anatomische variaties, doelgebieden, houdingen analyseren op hun functie)
Yin Yoga Asanas en Assisted Yin
Chakra studie (gebaseerd op de leringen van Dr. Hiroshi Motoyama en Paramahansa Yogananda)
De principes van Karma en Samskaras
De principes van Vrittis en Vasanas
Diverse meditatietechnieken
De chakra studies zijn gebaseerd op de leer van Dr. Hiroshi Motoyama en Paramahansa Yogananda.
Deze training is bedoeld om je een diepgaand inzicht te geven in de menselijke anatomie. We gaan in op het vocabulaire van Yin Yoga houdingen en hun variaties en hoe ze te onderwijzen. Daarnaast onderzoeken we de theorie van de Chakras en verschillende Chakra meditaties. Huiswerk en opdrachten maken onderdeel uit van de training, er is geen examen.
Dit is een 100-uurs opleiding, erkend door Yoga Alliance.
Wanneer?
Data: 25 september t/m 8 oktober 2023
Lestijden zijn:
 Maandag t/m vrijdag van 12:00 tot 18:00 uur
Zaterdag van 12:00 tot 15:00 uur
Zondag van 13:00 tot 18:00 uur
Dit is een 100-uurs opleiding, erkend door Yoga Alliance.
Huiswerk en opdrachten maken onderdeel uit van de training, er is geen examen.
Internationale Yoga Teacher
Marcel van de Vis Heil heeft intensief gestudeerd bij Paul en Suzee Grilley- grondleggers Yin Yoga en is een van de vaste assistenten tijdens hun Teacher Trainings. 
Marcel van de Vis Heil
Vader van de YogaGarden, Marcel heeft een enorme vakkennis op yogagebied. Als yogadocent is hij kalm, opmerkzaam en toegewijd, hij heeft oog voor detail.
Anusara Yoga heeft hem geleerd zijn hart te volgen, onvermijdelijk bracht hem dit naar Yin Yoga en Paul en Suzee Grilley. Zijn studies bij hen hebben zijn horizon verbreed.
Prijs
€ 1.815 incl btw
Literatuur (zelf aan te schaffen)
Yin Yoga by Paul Grilley, ISBN 978-1-935952-70-1 (blue cover with one picture on it).

Your Body Your Yoga, Bernie Clark, ISBN-13: 978-0968766538
Aanbevolen: Thieme Atlas of Anatomy: ISBN 3-13-142081-2
**English**
There are many different approaches to Yoga and all of them for good and valid reasons. Our Teacher training focuses on the Taoistic principles of Yin and Yang, the two fundamental and complementary main forces of the Universe. Yang is characterized by strength, rhythm and repetition, Yin by softness, stillness and ease.
A healthy and fulfilled life contains a healthy balance of both these aspects: too much Yang can turn someone rigid and aggressive, too much Yin may result in weakness or depression. It is part of our Yoga practice to develop the intuition and the wisdom to know what we need and when we need it. Some people are more prone to yin, others to yang, but everybody needs both. And the practice of postures is just the beginning: as the mind calms down and the body opens up, a well of vibrant energy emerges, allowing us to explore our full potential as human beings.
In a physical context Yin and Yang determine not only the tissues of the human body but they describe how our bodies move regarding the elasticity of the joints. Muscle, connective tissue and bone each have different elastic qualities and each respond differently to the stresses placed upon them by Yoga postures. Yin tissues should therefore be exercised in a Yin way and Yang tissues in a Yang way. Bones are Yin, muscles are Yang and connective tissue lies between the two. The characteristic of Yin exercise is stillness for long periods of time while tissues are being stressed, particularly connective tissue.
What you will learn
Our Yin Yoga Teacher Training is based on the philosophical and anatomical principles as taught by our teachers Paul and Suzee Grilley.
Anatomy and its explorations (skeletal/anatomical variations, target areas, functional analysis of postures)
Yin Yoga Asanas and Assisted Yin
Chakra teachings
The principles of Karma and Samskaras
The principles of Vrittis and Vasanas
Various meditation techniques
In addition, the Chakra studies are based on the teachings of Dr. Hiroshi Motoyama and Paramahansa Yogananda.
This training is meant to give you a thorough understanding of the human anatomy, which we believe will be immensely valuable in your teachings; we will look into the vocabulary of Yin Yoga postures and their variations and learn how to teach them.
We will also explore the theory of the chakras and different chakra meditations.
Who is it for?
The training is meant for anybody who has been practicing yoga for at least a year, and has done Yin Yoga before.
Planning
Dates for this program are 25 September- 8th October
Day schedule is as follows:
Monday to friday – 12:00-18:00
Saturday – 12:00-15:00
Sunday – 13:00-18:00
This is a 100-hour program, recognized by Yoga Alliance.
There will be 'homework' assignments; no examination is required.
Price
Price: 1.815,-
Books:
Yin Yoga by Paul Grilley, ISBN 978-1-935952-70-1 (blue cover with one picture on it).

Your Body Your Yoga, Bernie Clark, ISBN-13: 978-0968766538
Recommended: Thieme Atlas of Anatomy: ISBN 3-13-142081-2
Yoga must haves