Termijn betaling (twee delen): 50 hours Functional Vinyasa Teacher Training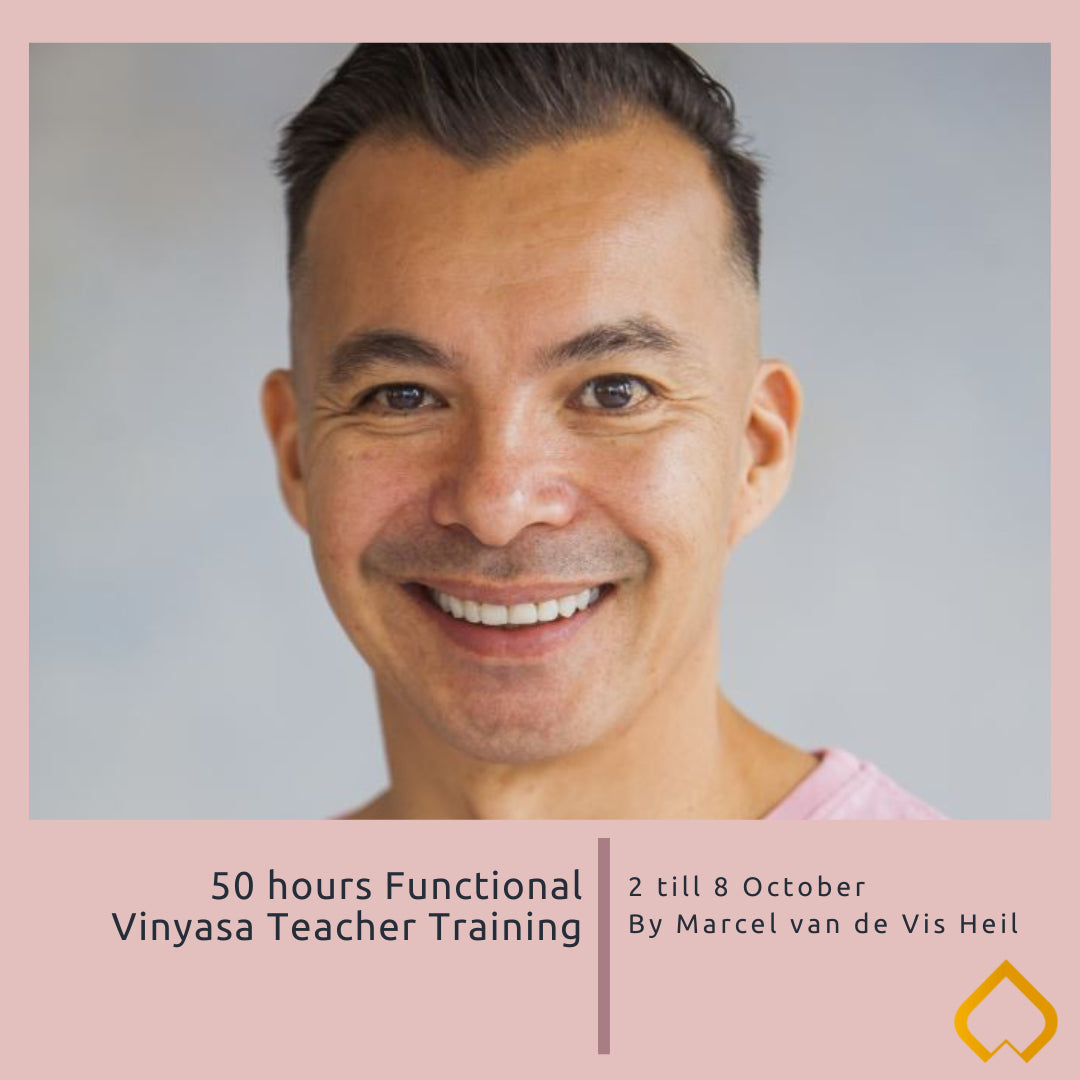 PRODUCT INFORMATION
What is Vinyasa?

One of the most popular styles of yoga, where the postures are done in a dynamic, continuous flow, slow or fast or anything in between. Much focus is placed in coordinating breath and movement, on stamina and heat.
What is Functional Yoga?
An approach to yoga where we focus more on what a pose should do than on how it looks. We are all unique: our skeletal structure, muscular flexibility, emotional response, mental organisation and psychological inclination is our own, and our practice should express that. Instead of trying to perform a pose from the outside, copying a shape, we try to understand what the pose is supposed to do and then adapt it to our own needs and abilities.
Functional Vinyasa combines both: it is a dynamic, creative flow that allows for each practitioner to manifest their uniqueness and capabilities, without competition and with a lot less frustration!
You will learn:
Anatomy
Understanding basic but fundamental anatomical principles in order to teach and adapt the main yoga poses to suit every student
Asana
Understanding the function of the poses and how to practice them to open the way to a long-lasting, creative and fulfilling practice
Philosophy
What differentiates yoga is not so much the physical movement as the willingness to turn the gaze inwards and look at ourselves with honesty and kindness. Yoga philosophy can be immensely helpful on our road to disentangle ourselves from our old behaviour patterns and supports us in our development and growth.
The course will be a 50 hour intensive; the days will be divided into:
Practice of yoga poses
Lectures on anatomy (bones, muscles, fascia)
Technique of the main poses and modifications
Teaching techniques
Lectures on philosophy
Teaching practice
This 50 hours Functional Vinyasa Teacher Training will take place on:
Date: 2 till 8 October
Day schedule is as follows:
Monday to friday – 12:00-18:00
Saturday – 12:00-15:00
Sunday – 13:00-18:00
Price:

The price for the 50 hours Yin yoga anatomy will be € 995,-  excl tax.
This training includes a 3 month membership of TheFatYogis.com
The price for 100 hours Yin & Vinyasa yoga anatomy and Philosophy will be:
€ 1815,- excl tax.
This training includes a 6 month membership of TheFatYogis.com
Literature (to purchase yourself)

Your Body Your Yoga, Bernie Clark, ISBN-13: 978-0968766538
Recommended: Thieme Atlas of Anatomy: ISBN 3-13-142081-2