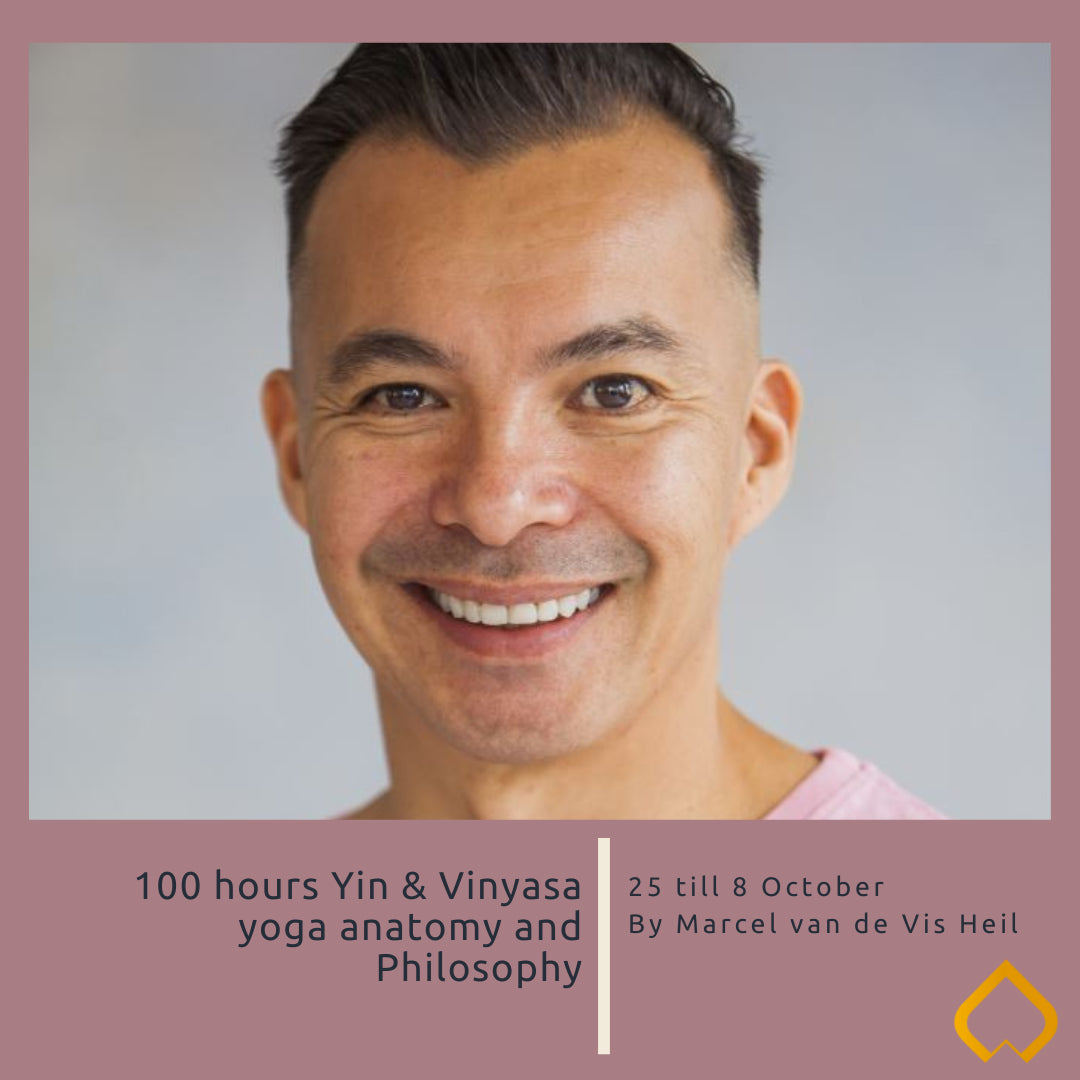 PRODUCT INFORMATION
Join  Marcel van de Vis Heil in an unique Yin Yang-yoga opportunity in Bergen. This is your change to learn from one of the first line assistants of Paul and Suzee Grilley, who are the pioneers when it comes to Yin-yoga and anatomy.

This training is divided in two parts: Yin & Anatomy and Functional Vinyasa.
What you will learn: Yin & Anatomy
In the first week you will focus on Yin Yoga & Anatomy. This Yin Yoga Teacher training is based on the philosophical and anatomical principles as taught by our teachers Paul and Suzee Grilley.
Anatomy and its explorations
skeletal variations
Target areas
functional analysis of postures
The 14 skeletal segments
The 10 muscle groups
The 7 archetypal Yin Yoga Asanas and their variations
Assisted Yin
What you will learn: Functional Vinyasa
In the second week, the focus will be on Vinyasa. 
One of the most popular styles of yoga, where the postures are done in a dynamic, continuous flow, slow or fast or anything in between. Much focus is placed in coordinating breath and movement, on stamina and heat.

What is Functional Yoga?
An approach to yoga where we focus more on what a pose should do than on how it looks. We are all unique: our skeletal structure, muscular flexibility, emotional response, mental organisation and psychological inclination is our own, and our practice should express that. Instead of trying to perform a pose from the outside, copying a shape, we try to understand what the pose is supposed to do and then adapt it to our own needs and abilities.
Functional Vinyasa combines both: it is a dynamic, creative flow that allows for each practitioner to manifest their uniqueness and capabilities, without competition and with a lot less frustration!
In the Vinyasa training, the focus will be on:
Anatomy
Understanding basic but fundamental anatomical principles in order to teach and adapt the main yoga poses to suit every student
Asana
Understanding the function of the poses and how to practice them to open the way to a long-lasting, creative and fulfilling practice
Philosophy
What differentiates yoga is not so much the physical movement as the willingness to turn the gaze inwards and look at ourselves with honesty and kindness. Yoga philosophy can be immensely helpful on our road to disentangle ourselves from our old behaviour patterns and supports us in our development and growth.
This 100hr Teacher Training will take place on:
25 till 8 October
Day schedule is as follows:
Monday to friday – 12:00-18:00
Saturday – 12:00-15:00
Sunday – 13:00-18:00
Price
The price for 100 hours Yin & Vinyasa yoga anatomy and Philosophy will be: € 1815,- excl tax.
This training includes a 6 month membership of TheFatYogis.com
Literature (to purchase yourself)

Yin Yoga by Paul Grilley, ISBN 978-1-935952-70-1 (blue cover with one picture on it).

Your Body Your Yoga, Bernie Clark, ISBN-13: 978-0968766538
Recommended: Thieme Atlas of Anatomy: ISBN 3-13-142081-2
About Marcel:

Marcel has been practicing yoga for over 2 decades, starting in a difficult period in his life, finding the healing benefits of this practice and meditation changed his life dramatically. He started his journey with Ashtanga Vinyasa yoga and Vipassana meditation, moving into a more static alignment yoga. Then he met Yin yoga's founder Paul Grilley and his wife Suzee, who showed him the physical, mental and spiritual uniqueness of everybody. Studying under their wings changed his view on asana practice and meditation seriously. Knowing now that we're all unique and we all need an unique approach in whatever we do, this is the message that he carries out in all his teachings.
Marcel is a well experienced teacher with almost 20 years of teaching experience, not only weekly classes in his studio in Amsterdam, but teaching teacher trainings and workshops worldwide. He calls the style of yoga that he is teaching Functional (Vinyasa) yoga, and it's all about how to use the poses in the most beneficial way for your unique body, instead of how to try to fit your body into an aesthetic pose.
Marcel has been a gym goer for a long time and after teaching private yoga clients for a while, helping people with injuries and people that are recovering from all other kinds of physical problems he realized that it could be helpful in some cases to bring yoga students to the gym, with the idea that weight resistant movements can help them in a faster way. He became a (N.A.S.M.) personal trainer, now combining yoga, meditation and weightlifting to maintain or create a healthy lifestyle. Nowadays Marcel practices besides yoga, Crossfit where he is a level 1 trainer (CF-LV1), and you can find him boxing, or running. He believes that functional multi-disciplined moving is the best way to maintain physical health of course combined with healthy food, and good nights rest! Besides being a functional movement trainer Marcel is a licensed Acupuncturist, Massage therapist and specialist in herbal remedies.
Marcel is known for his strong sweaty functional vinyasa classes, his soft, soothing yin yoga classes and deep inter perspective guided chakra nyasa meditations.